Athens is the capital of Greece, has the main international airport of the country, is one of the most popular travel destinations in Greece and is located only one hour away from the Peloponnese peninsula. So, it's only natural that it is the most popular place to start your trip to Peloponnese. One can reach Peloponnese from Athens, either by car, train, intercity bus, motorbike or one of the organized tours of Peloponnese.
When planning your tour of Peloponnese from Athens, it is important to take under consideration which are the places that you want to visit, how many days will your trip last and the things that you would like to do in every place. If you would like to be more flexible and are willing to spend several days or to visit off-the-beaten-track sights, then you should choose either a car or motorcycle. If spending extra days is not an issue but you want to avoid driving, then you can use the public transportation (trains and buses). If you have only one day or two and want to see the highlights of the Peloponnese, then choose one of the popular organized tours from Athens to Peloponnese.
From Athens to Peloponnese: tour with a car or motorcycle
Most of the main highways of the Peloponnese are new and easy to drive. You can reach Patras, Kalamata, Tripoli and several other main cities from Athens in only a couple of hours. Roads in the rest of the peninsula may be more difficult to drive, and may take you more time than estimated to reach your destination.
You can rent a car from Athens to Peloponnese in the Airport or in the centre of Athens; booking in advance is always suggested in order to make sure that you will find a car rental available (during high season this may be challenging) and that you will get the best rates.
Explore our suggestions for the best tours in Peloponnese by car.
From Athens to Peloponnese: tour using public transportation
One may take the train from Athens to the northern part of the Peloponnese, but for the rest of the areas you will have to choose intercity buses (KTEL). It is highly recommended to plan thoroughly all of your trips in advance and check routes and timeplans, or else you may get stuck in a destination which may not have public transportation to a nearby area that you want to visit.
If you find yourself in this unpleasant situation then you will have to use a taxi to visit your next destination (make sure to agree the fare before you embark) or you will have to go back to a bigger town and then get the next public bus to the place that you want to visit.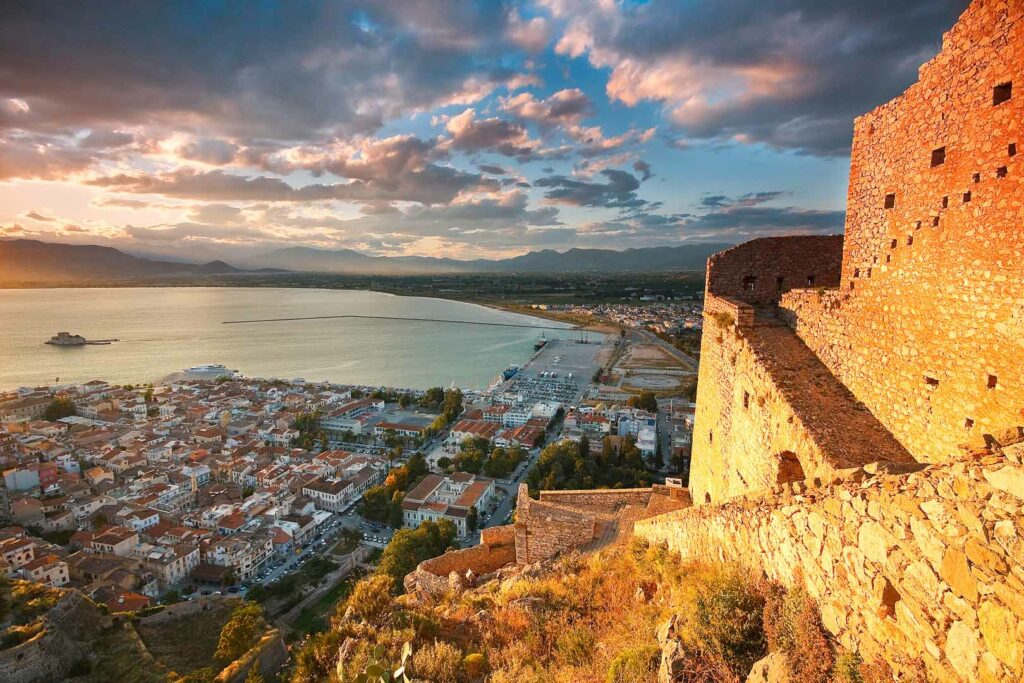 From Athens to Peloponnese: guided tours
The organized guided tours from Athens to Peloponnese don't give you the flexibility to visit every spot that you want, but they are a convenient and more economic way to see the highlights of the Peloponnese in one day or in a couple of days.
The top destinations that one may see through an orgarnized tour to Peloponnese from Athens are
Choose a Guided Peloponnese Tour from Athens
The Peloponnese offers numerous hidden gems that one may visit and explore. Plan your Peloponnese Tour in advance and make the most of it choosing the best transportation from Athens to Peloponnese for your own needs and destinations.